3 Stars (I liked it) for All The Bright Places by Jennifer Niven.
The Fault in Our Stars meets Eleanor and Park in this exhilarating and heart-wrenching love story about a girl who learns to live from a boy who intends to die.
Soon to be a major motion picture starring Elle Fanning!
Theodore Finch

is fascinated by death, and he constantly thinks of ways he might kill himself. But each time, something good, no matter how small, stops him.
Violet Markey

lives for the future, counting the days until graduation, when she can escape her Indiana town and her aching grief in the wake of her sister's recent death.
When Finch and Violet meet on the ledge of the bell tower at school, it's unclear who saves whom. And when they pair up on a project to discover the "natural wonders" of their state, both Finch and Violet make more important discoveries: It's only with Violet that Finch can be himself—a weird, funny, live-out-loud guy who's not such a freak after all. And it's only with Finch that Violet can forget to count away the days and start living them. But as Violet's world grows, Finch's begins to shrink.
This is an intense, gripping novel perfect for fans of Jay Asher, Rainbow Rowell, John Green, Gayle Forman, and Jenny Downham from a talented new voice in YA, Jennifer Niven.


Source: Goodreads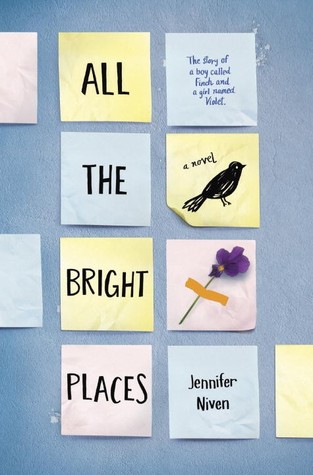 I am in two minds about this book. Even though I know it deserves the praise it has gotten and that it has blown a lot of people's minds. It was only partially able to grip me.
When a book is compared to tear jerkers like The Fault in Our Stars and Eleanor and Park, you are putting a lot of weight on its shoulders and I'm not quite sure it was able to deal with the expectations.
If I were to make my own comparison then I would say that All The Bright Places is the love baby created by John Green's Looking For Alaska and Papertowns.
Due to the high expectations caused by critics, other readers etc., I really had expected to be bawling my eyes out by the end, to be blown away by the entire experience but sadly enough it fell a little flat for me. And as much as I can see where it managed to grip others, I'm a little disappointed that it didn't do it for me.
Finch and Violet meet when they're both standing on the ledge of their school building's roof. Each have their own motives for being there but the chance encounter has Theodore Finch all fascinated with this once very popular girl.
She became his reason to stay Awake for as long as possible, to experience as many bright days as he could get out of himself.
Violet doesn't feel like herself anymore. Not since the day of the accident. Not since she has lost her sister. When Finch keeps trying to connect with her, she isn't very keen on getting to know this boy that is commonly known as Theodore Freak.
Yet, the two become friends and their friendship is exactly what Violet needs to start living again. If only the same could be said about Finch. No matter what Violet tries, the boy she's come to love seems to be slowly slipping away from her.
The book touches upon a few topics that are important to be talked about: like bipolar disorder, suicide, etc. and tells a story that I think is an important one to be told.
However, I felt like this story was constantly reaching out and trying to capture me but failed to do so. It wasn't captivating enough. It really wasn't strong enough to hold itself upright.
It wasn't until a certain line at about 3/4 down the story (it's a small spoiler so I won't mention it) that I felt like it had reached me. But even then it was on and off.
All The Bright Places is a book with an important story that needs to be told. And that will make you stand still and think of the people you love and beg you to see them clearly.